Site Inspection - Executive Sea View Suite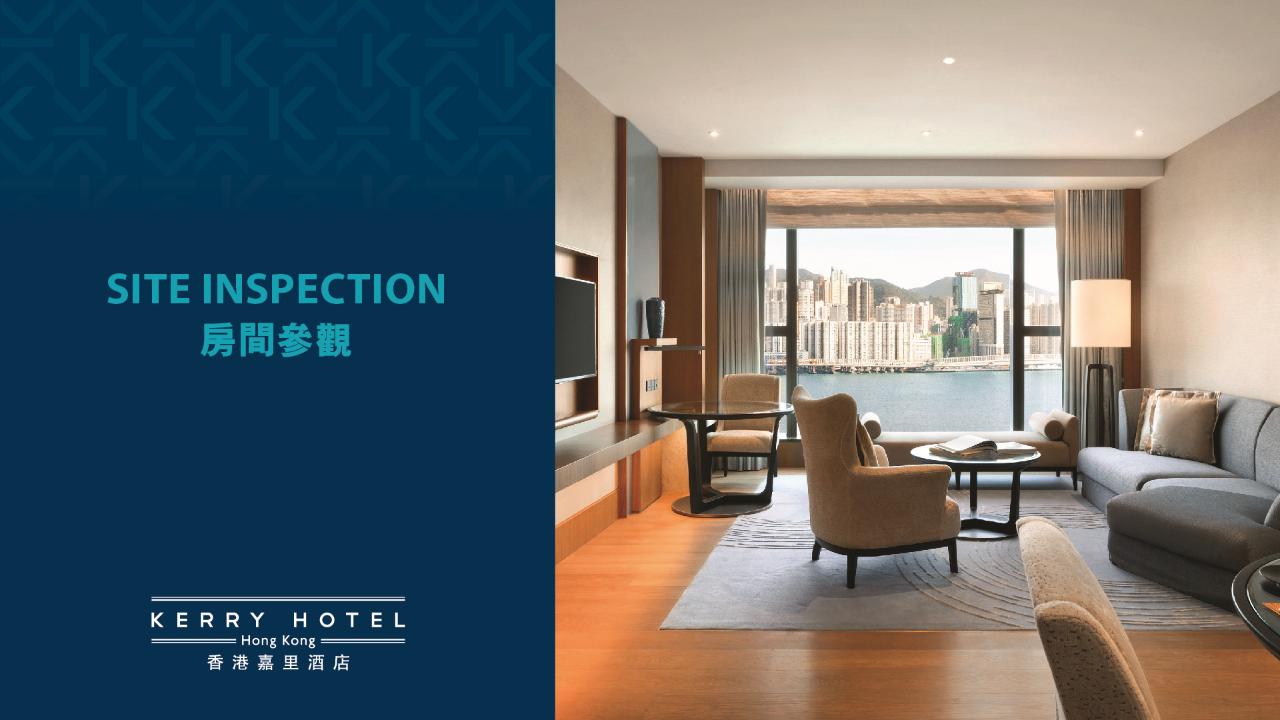 Duration: 30 Minutes (approx.)
Location: 38 Hung Luen Road, Hung Hom, Kowloon, Hong Kong
Product code: SITEV23
Thank you for your interest in our site inspection.
Please note that each session will take around 30 minutes.
Executive Sea View Suite Showroom Reservation
*No walk-ins will be accepted

Remarks
Each group session can accommodate a maximum of 3 couples (6 pax)
Each session will take around 30 minutes
Meeting point is located at the sofa area next to the Front Desk counter (under the escalators)
Each couple can only reserve one session
Rules & Regulations
Bookings will be cancelled without notice if guests are late for more than 5 minutes.
Inspection of Specialty Sea View Suite will be subject to the Hotel's availability.
Photography and video taking are permitted during the room inspection, however please be aware of other attendees' privacy.
No food or drink is allowed during the room inspection.
Please note that the showroom is a demo. The room shown during the session may not be the actual room you will be staying in. Room layout, floor level and the view may be different.
Please do not move or sit on the furniture in the showroom. If you wish to use the restroom, please proceed to the one in the Lobby.
Guests are reminded not to leave their personal belongings unattended. The Hotel accepts no responsibility for the loss of or damage to their personal belongings.
Closed Circuit Television (CCTV) surveillance cameras are in operation on these premises. The CCTV Cameras on these premises are being used for security and surveillance purposes. All data collected will be handled in accordance with the Personal Data (Privacy) Ordinance.
The Hotel reserves the right to refuse entry to or to remove any guest from the facilities if these Rules and Regulations are not observed.

預約參觀行政海景套房
*無預約者恕不招待


注意事項:
· 參觀形式 – 團體(每節接受最多三組客人,每組兩位,共六位客人)
· 每節約三十分鐘
· 集合地點於酒店大堂,鄰近前台扶手電梯下的沙發位置
· 每組客人只可預約一個時段
條款及細則
· 如參觀人士遲到多於五分鐘,該預訂將會自動取消而不作另行通知。
· 如需參觀特色海景套房,將因應酒店房間之供應情況而定。
· 於房間內歡迎拍照及攝影,但請注意他人個人私隱。
· 為確保房間衛生,參觀期間禁止飲食。
· 參觀房間只作參考並不確保為入住當日同一房間,因所有套房均位於不同樓層以及不同位置,房內設計或有不同。
· 參觀人士請勿移動房間內任何傢俬或使用任何設備,如需使用洗手間請移步到一樓大堂。
· 請自行看管個人隨身物品。如有任何損失或損壞,本酒店一概不負責任。
· 閉路電視監察系統正在本酒店進行操作。設於本酒店的閉路電視攝影機現正被用於保安及監察目的,所收錄的資料將根據個人資料(私隱)條例處理。
· 本酒店保留拒絕任何不遵守以上條款及細則的人士進入或使用場內設施的最終決定權。